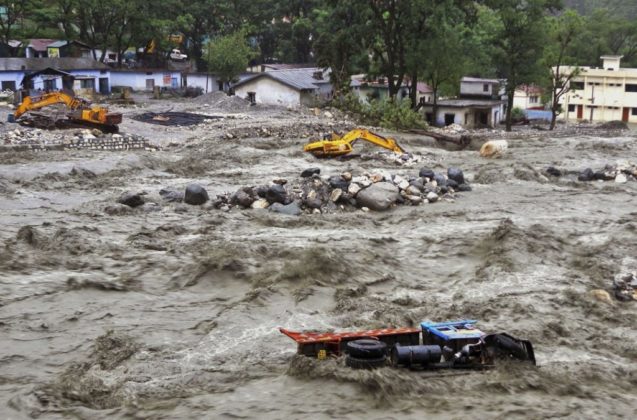 News
21 killed in rain-related incidents as monsoon gains momentum
21 killed in rain-related incidents as monsoon gains momentum
---
At least 21 people were killed in rain-related incidents in Uttarakhand, Uttar Pradesh, Rajasthan and Assam with monsoon gaining momentum in several parts of North and Northeast India.
At least 10 people were killed in Uttarakhand in rain-related incidents. Four persons lost their lives in Tehri district as their car was hit by debris falling from a hillside in the wake of a landslide. Two others were killed in Uttarkashi district when a tree fell on their house following heavy rains in the area.
Incessant rains sent the Ganga, Yamuna and their tributaries into spate with all of them including the Bhagirathi, Alaknanda and Mandakini flowing close to the danger mark, prompting authorities to evacuate people living there.
Heavy rains are likely to continue in the state for another 24 hours especially in Udhamsingh Nagar, Haridwar and Dehradun districts where extremely heavy rains are expected at a couple of places during the period, state MeT office said.
The national capital witnessed light rains, keeping the mercury within comfortable levels with the maximum temperature at 30.1 degrees Celsius, five notches below the normal.
According to the India Meteorological Department, 2.5 mm rainfall was recorded between 8.30 AM and 5.30 PM at Safdarjung observatory while weather stations at Lodhi Road, and Ridge recorded 2.6 mm and 0.6 mm rainfall respectively.
The minimum temperature settled at 26.4 degree Celsius, one notch below the normal and humidity level oscillated between 81 and 97 per cent in Delhi.
Several parts of UP received over 10 cms rainfall, even as the weather department predicted rain and thunder showers at many places in the state tomorrow.
Overnight showers have wreaked havoc in most parts Aligarh and Mathura with a large number of houses getting water-logged.
In Bijnor's Nahtor area, two sisters, aged 30 and 32 years, were killed after the roof of their house collapsed on them due to heavy rains.
A minor and a 40-year-old woman died in Muzaffarnagar and Mathura respectively due to house collapse. A 25-year-old man died in lightning-strike in Balrampur, while three persons were electrocuted in Aligarh after coming in contact with a live wire as they were trying to pump out rain waters from their house.
Widespread rains lashed Punjab and Haryana, causing mercury to dip by a few notches. Many places in Punjab including Patiala, Ludhiana received rains which dropped the temperature by several notches, giving relief to residents from the hot and humid conditions.
---
If you like the story and if you wish more such stories, support our effort Make a donation.
---
---
---