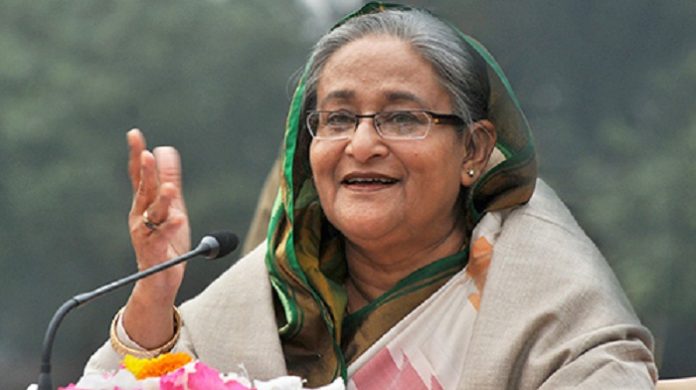 News
Bangladesh PM seeks nationwide alert amid Islamist attacks
Bangladesh PM seeks nationwide alert amid Islamist attacks
---
Fearing fresh Islamist attacks, Bangladesh Prime Minister Sheikh Hasina today sought a nationwide social alert advising neighbourhoods and institutions to develop their own security systems to supplement the security agencies.
"Once they (Islamists) started, they are unlikely to keep silent," the premier told a media briefing at her residence in the aftermath of the July 1 terrorist attack at an upmarket Dhaka cafe that killed 20 foreigners including an Indian girl, and a subsequent assault on an Eid congregation in northern Sholakia district.
She however said the attacks resulted in a "national unity" against Islamists with people from all walks of life including Islamic leaders joining hands in spearheading a countrywide social campaign at the grassroots while police and security forces launched a clampdown against militants.
"However, everybody should develop their own security spheres, while the government will do everything possible on its part," Hasina said.
She spoke hours after suspected militants hacked three traditional 'Baul' mystic singers in a pre-dawn attack in western Chadanga district where a number of them rallied to join a mystic congregation.
The Baul community renders mystic songs disseminating messages of universal harmony, which is close to the Muslim Sufi thoughts, and do not perform the routine Islamic rituals.
No group has claimed responsibility for the attack, but police suspect local hardline Islamists to have carried out the attack as they denounce mysticism as "unIslamic".
Bangladesh in the past two years has witnessed deadly attacks on liberals, secular writers and activists, religious minorities including Hindus, Shias and Sufis.
"But the Gulshan (Dhaka cafe) attack appeared with a different dimension, a number of foreigners lost their lives in the assault affecting the country's image. Earlier I had talked louder but the Gulshan attack dented country's esteemed position," Hasina said.
The premier, however said, the attacks did not affect
Bangladesh's image alone as terrorism appeared to be a global phenomenon with even developed nations like the US and France being victims of militant assaults.
"But we will have to move forward with self confidence, the spontaneous peoples vigil will deter the militants," Hasina said urging people keep an eye particularly on the activities of youths in their neighbourhoods.
Asked for her government's stance in accepting foreign assistance in combating terrorism said "We all need to assist each other as terrorism appeared as a global phenomenon".
"We need mutual cooperation. We need to share intelligence about the sources of their (militants) finance, weapons and modus operandi of the militants," she said.
The premier said she urged world leaders to find the root of such attacks during the ASEM summit a day after her return home from Asia-Europe Meeting Summit in Mongolia with its focus being the threat of terrorism worldwide.
The premier however declined to divulge developments of investigations into the back-to-back attacks, which police earlier said were carried out by homegrown Jamaatul Mujahideen Bangladesh (JMB).
"You are being informed to the extent what could be revealed, don't press for the nitty-gritty details, if a thread of investigation comes out because of your insistence, they (militants) will come to know our strategy," she said.
---
If you like the story and if you wish more such stories, support our effort Make a donation.
---
---
---